Arnold Morscher is my dad.

He currently lives in Fairview Park, Ohio, and his E-mail address (which he seldomly checks) is:

amorscher@morscher.com


He was born in Dutchy of Gottschee on July 17, 1926. He is the Son of Joseph Morscher (born 1893) and Paula Morscher (Nee Sturm, born Feburary 27, 1895). My dad grew up in the German settlement city of Gottschee, which incidentally was the southernmost german settlement in Europe.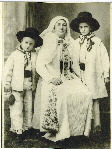 Here is a photo taken around 1930. Paula Morscher with my dad Arnold on the left and his brother Joseph "Pepi" Morscher on the right. (Max size)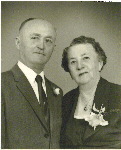 My dad's parents, Josef Morscher and Paula (nee Sturm) Morscher, both deceased. (Max size)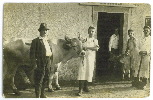 My dad's father ran a very busy meat business in the city of Gottschee. They had a Metzgerei, and a slaughterhouse along with a many buildings and much property, all of which were lost during the war. Here is my dad's father (in a dark suit with a hat) in front of one of his buildings with cattle and some employees. The guy on the right is holding the giant sledge hammer, which is used to knock out the cattle for slaughter. (Max size)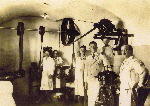 Here is the interior view of Morscher Metzgerei, photographed in 1926. The belt driven meat grinders seem threateningly near my dad's brother's fingers, (he is the little kid with his hand up in the machinery and had the nick name "Pepi"). My dad's father is furthest to the right. (Max size)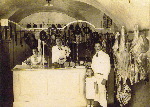 Another view of the interior view of Morscher Metzgerei, as seen in 1928. My uncle Joseph "Pepi" (my dad's brother) is the little kid. My grandfather Joseph Morscher and grandmother Paula Morscher are behind the sales counter.
Joseph Morscher was trained in the Metzgerei business in Innsbruck, Austria. (Max size)




Here is my dad on the left with my brother Roy Morscher, during maneuvers. Photographed in the mid 1990's. (Max size)